Debter Hereford Farm is a family ranching operation, located in north central Alabama. Debter Hereford Farm has been in operation since 1948 utilizing solid performance Hereford cattle.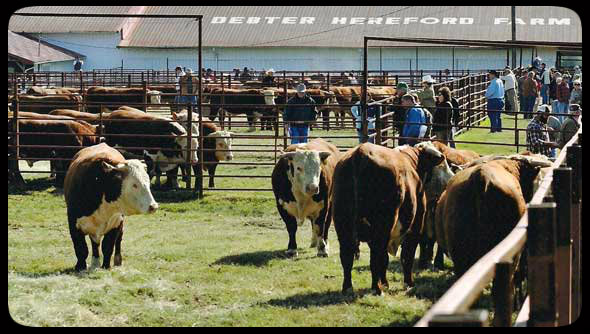 In 1972, Debter Hereford Farm held their 1st Annual Production Bull Sale in a tent behind the old white barn. The barn was built to shelter the mules used for row crops. A lot of things have changed since that time. We have an indoor sale barn facility that was built in 1980, in which we hold our bull sales. One thing that has not changed is the Debter family's commitment to producing the best Hereford cattle for our customers. We have been in the Hereford business for over 70 years and are proud of our breeding program. We work hard to make sure our bulls are performance bred, stout, and ready to work for you. Debter Hereford Farm's 2-year-old-bulls are sired by some of the top Herd Bulls in the Hereford breed and are out of a top set of cows that we have bred and selected for over 70 years. We know the importance of milking ability, easy fleshing, good udder quality, performance, soundness, and fertility. Good dispositions are a must.
Over 70 years of producing Registered Hereford Cattle!
Visitors are always welcome! Contact us to set up a time to view our cattle or with any questions.